Nitro & Dixie – Robert Bulla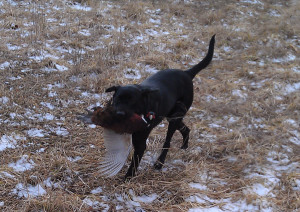 I'm 52 years old and I've been duck hunting since I was 12 years old.  About 20 years ago, I went on a Golf outing with someone from Ducks Unlimited.  He said when I was ready to get my first lab, to give him a call and he could provide me with some people to call.  I ended up calling on 5 people and they all praised The Retriever Barn.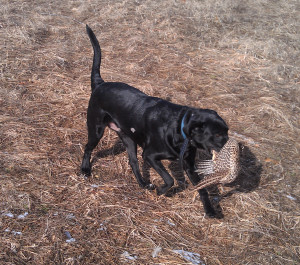 I had my first lab, Brook, for 15 years, and she passed away.  I contacted the Retriever Barn in November 2009, and Dave and I talked and I went down and actually decided to buy 2 dogs, Nitro and Dixie, instead of 1.  Their full names are "Remington Nitro Magnum and "Rob's Little Dixie Girl". They are now about 6 years old as of December 2015.  Dave would work with the dogs during the week and I'd drive down from Michigan on the weekends and feed them to get them to know I'm going to be their master.  The 2 dogs I got were finished dogs that were trained already.  From a pheasant hunting standpoint, they  are fantastic.  The female, Dixie will point on a pheasant and hold the point, which is hard for labs to do, since their retriever gene is so dominant.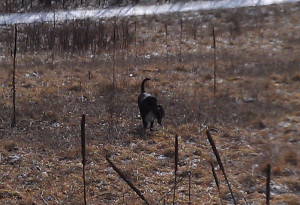 They've been fantastic dogs, with no trouble on any retrieves.  Their obedience is great and they are actually pretty quiet.  Next year, I'm taking them to the Dakotas on a duck hunt.  Dave is great.  He's easy to work with.  He's not only a great trainer, he's a good friend as well.
We were recently featured in the Hillsdale Daily News in October 2015.  We were at the Len Jenkins Hunt Club having some coffee and chatting with Jenkins before getting ready to hunt.  He said he was trying to cross-breed english pointers with labs.  My uncle let him know his female lab points just like a short-hair.  Jenkins came out on the hunt with us to see it first-hand and she didn't disappoint.  She locked up just like a pointer.  Read the full article in the HillsdaleNews10-21-2015.