Izzy – Eric Gahn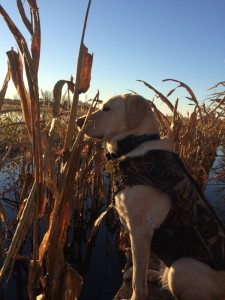 I'm Eric Gahn from Fremont, Ohio, and I have a yellow lab named Izzy.  She just turned 4 years old September 20th, 2015.  I got with Dave through Ducks Unlimited magazine.  I started out training her on basic obedience with Dave at 9 months of age and went on through all the steps of training a hunting dog.  We went through 2 years of training , not every week, but during the winter and hot summer, with 2 sessions per week.  We had her doing blinds, all hand commands, whistle commands and everything you can think of that you want a duck hunting dog to do.
Dave and I have turned out to be very good friends through the whole process, even hunting together.  He's very cordial after the training session is done.  If he's got time, he'll sit and chat with ya, send you home with homework, what to do.  I can call him anytime if I have a question.  He especially likes you to call him and tell him how the dog is advancing.
In the beginning, we weren't sure she was gonna to do it.  But we kept pushing her to do more and more. She would have been fine after just 1 year, but since I lived so close by to Dave, I just kept going back for more.  In the end, I got a retrieving machine.  In fact, she just barked because she wants to get out and chase her dummy.  Once she got to where she wanted to retrieve, she turned into a little hyper-spaz dog, because that's all she wanted to do.  That's all she still wants to do.